Our vision
is to create innovative enterprise software solutions that seamlessly integrate disparate applications and democratize access to relevant information for timely and superior decisions.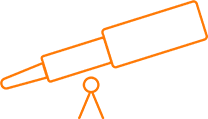 Our mission
is to provide a comprehensive enterprise software platform for our customers that establishes robust digital backbone of integrated applications and allows users to gain enterprise-wide visibility leading to actionable insight.

eQube®,
our platform for enterprise information infrastructure establishes a
Digital Backbone
of integrated applications and provides enterprise-wide visibility leading to
Actionable Insight
and knowledge. Solutions built by using one or more of our offerings provide flexible and open "visibility infrastructure" to our customers that allows unprecedented visibility in their diverse, complex and global business processes. Such visibility enables our customers to make informed and timely decisions that leverage their investments in critical business processes spanning PLM, ALM, ERP, Warranty Systems, Quality systems, etc.
In addition, eQube based solutions establish a digital backbone of integrated applications that enables seamless flow of information under security and governance rules. Once a digital backbone is established, it allows for consolidation / retirement of applications and also, enables secure collaboration across networks, partners, customers, and suppliers.

Values and Beliefs
We live by "4 E's and a P" principle (Energy, Energize, Edge, Execution, and Passion) and our people, the eQ team, embody it. We nurture our dynamic culture to deliver innovative offerings and solutions that address business needs comprehensively. Emotional quotient is highly valued in the Company and this comprehensive philosophy has become part of our DNA, reflected in our name: eQ Technologic. Our people naturally act as 1 team ("1 eQ") to deliver the goods for our Customers.
eQ Technologic operates in accordance with a set of core values and beliefs, which are critical for the continued success of our customers, our people and our company.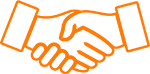 Customer Centric:
For eQ, customers' needs are paramount! We have and continually strive to exceed our customers' expectations. eQ assembles the right skilled team to deliver the product / software solution. eQ teams take pride in "achieving the deliverables" in the prescribed time and budget.

Open Environment:
We continue to nourish and enhance our "Open Environment". Teams operate in a methodical manner and have the flexibility to manage their deliverables to satisfy customer needs. Professional input and sanity-check is sought and provided across the organization. Any "Idea" is considered to be "good" irrespective of its source and is provided due process to adopt or to build-upon

Integrity:
eQ team members deal with customers, partners, as well as with each other with professional respect and highest levels of integrity. eQ values its customers' and partners' Confidential Information at the same high levels of its own Confidential Information. "eQ values Integrity".

Teamwork:
The only way that eQ knows how best to operate is in a "Team Environment". This is evident both internally and externally. Joint teams are formed with the customer at the very beginning of every engagement and the team helps set expectation and manages the deliverables. eQ team members come from various backgrounds, both professionally and individually!