eQube®-MI: Digital Backbone for the Enterprise
Establish a robust and secure application integration infrastructure
Rapidly build 'for purpose' apps
Deliver 'Data as a Service' (DaaS)
Link data across the enterprise
Federate data – not replicate
Integrations made Easy!​
eQube®-MI - a modern Hybrid integration platform
Rapidly integrate data, applications, and devices
Retire legacy systems without business black-outs
Synchronization leading to orderly migration
eQube-MI is a next generation Hybrid integration platform that establishes a Digital Backbone of integrated applications. It is a single platform that efficiently addresses application integration, synchronization, and migration challenges. In addition, eQube-MI based application integration infrastructure can be readily extended for secure, scalable, and robust information collaboration across networks, partners, suppliers, and customers that are geographically dispersed.
eQube-MI represents 'Not only ESB' integration architecture. Based on the use case, eQube-MI can be used to build integration solutions conforming to either ESB type integration or loosely coupled application-to-application type integration or API gateway type integration; hence 'Not only ESB'. eQube-MI can be deployed in multiple ways: cloud only or on-premise only or in a hybrid manner, such as a combination of cloud and on-premise deployment or a combination of cloud to cloud and on-premise deployment. When deployed in any combination involving cloud deployment, eQube-MI acts as an integration platform as a service (iPaaS).
Although the eQube-MI based integration approach is different than traditional integration platform's (ESBs, message brokers, …) approach, due to eQube's open architecture, eQube-MI can readily leverage prior investments made by a customer in other integration platform (s). It can exchange data with any other integration platform as SOAP or JSON or as a Web-service or RESTful service or API. Thus eQube-MI can easily co-exist with other integration platform (s) providing the greatest flexibility.
The following figure shows the concept: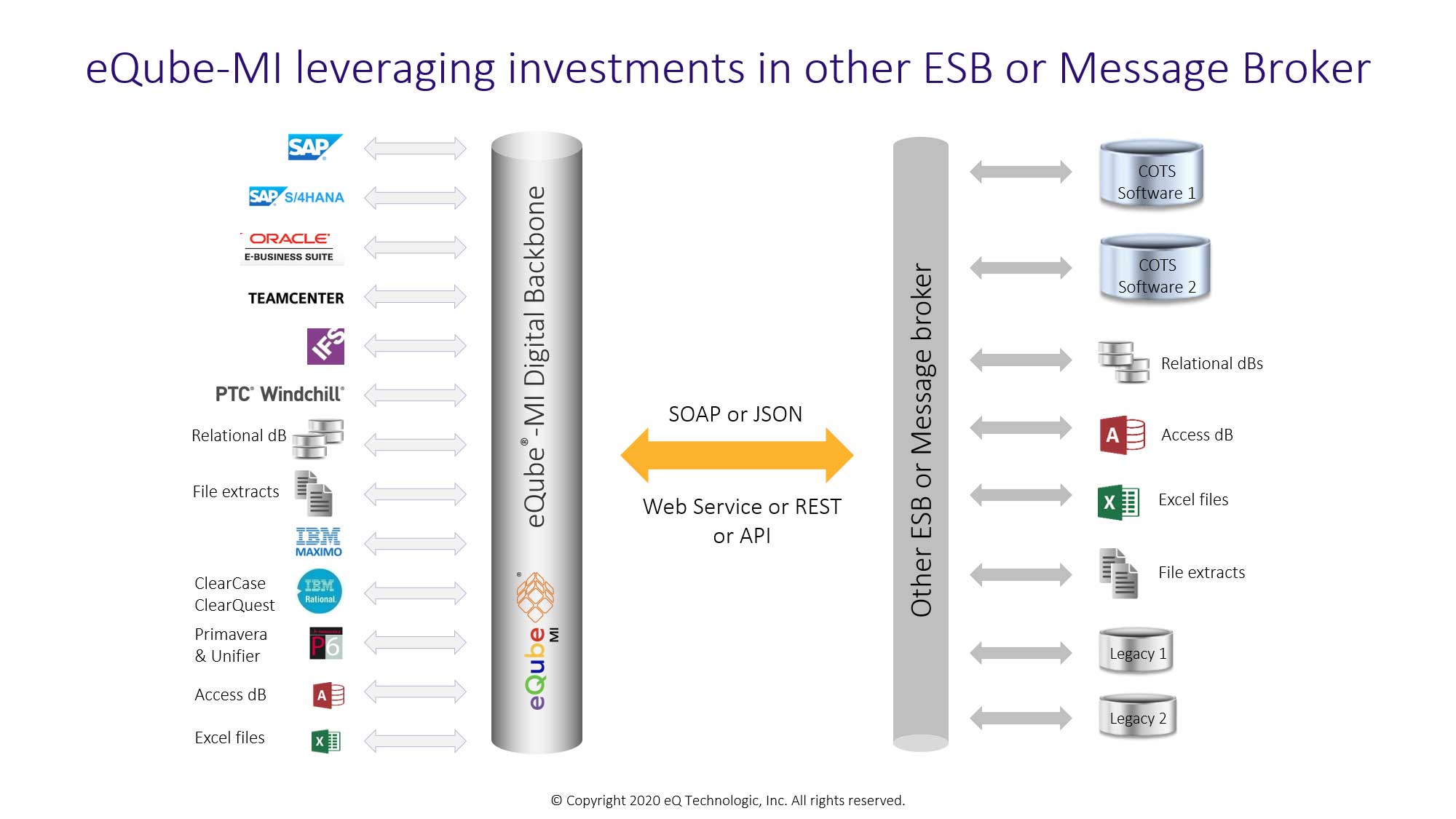 Read More
eQube Mendix App (Multi PLM + ERP)
For Purpose app for management of a distributed Bill of Material (BOM). The entire BOM data exists in four different PLM systems, Teamcenter, Windchill, ARAS, and Enovia.
This is an example of a 'for-purpose' app. An automotive OEM manages their eBOM in Teamcenter. This OEM has three key suppliers who deliver the sub-assemblies. But these suppliers do not use Teamcenter to manage their PLM data. They use three different PLM applications: ARAS, Windchill, and Enovia.

The OEM is the design authority and needs to review the consolidated Engineering BOM across all four PLM systems (Teamcenter, ARAS, Windchill, and Enovia). In addition to the eBOM data, the OEM also needs to see related material information of the eBOM along with the Cost in their ERP system.

For this app, eQube-MI exposes Services to all the applications involved and an intuitive user interface is built using Mendix, which consumes these services. The user gets a single view of data spread across all four systems and is able update data in these systems, without having to login to the individual systems.

A 'for-purpose' app like this app provides substantial productivity gains.
Read More
Teamcenter - SAP integration in cloud
Web App built using eQube-MI to view and edit information in Teamcenter and SAP Simultaneously
Transfer BOP from Teamcenter to SAP
Transfer BOP from Teamcenter to SAP using eQube-MI
Teamcenter Dataset migration to SAP Document
Teamcenter Dataset migration to SAP Document using eQube-MI