Establish a robust and secure application integration infrastructure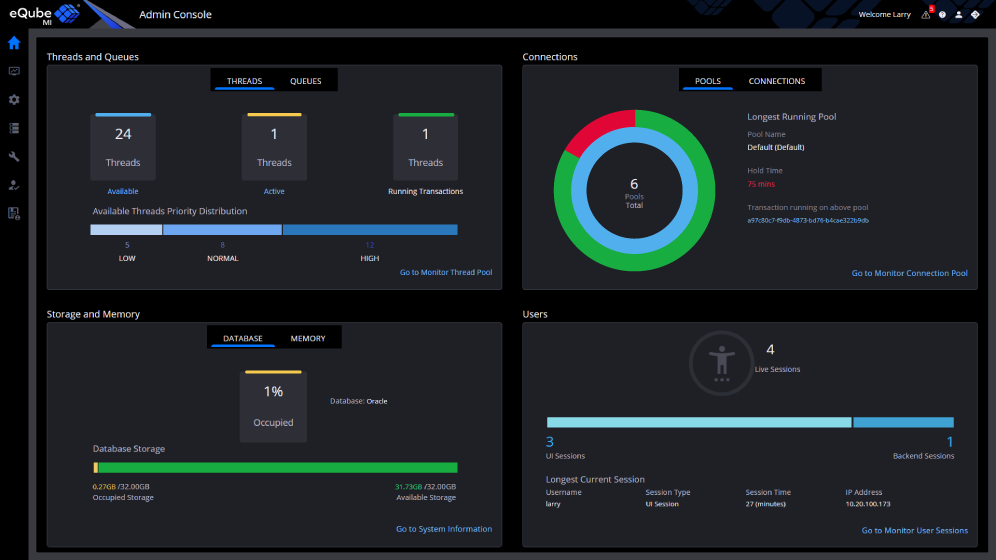 Powerful
Dashboard
Memory
DB Storage
Sessions
Queues
Pools: Connection & Thread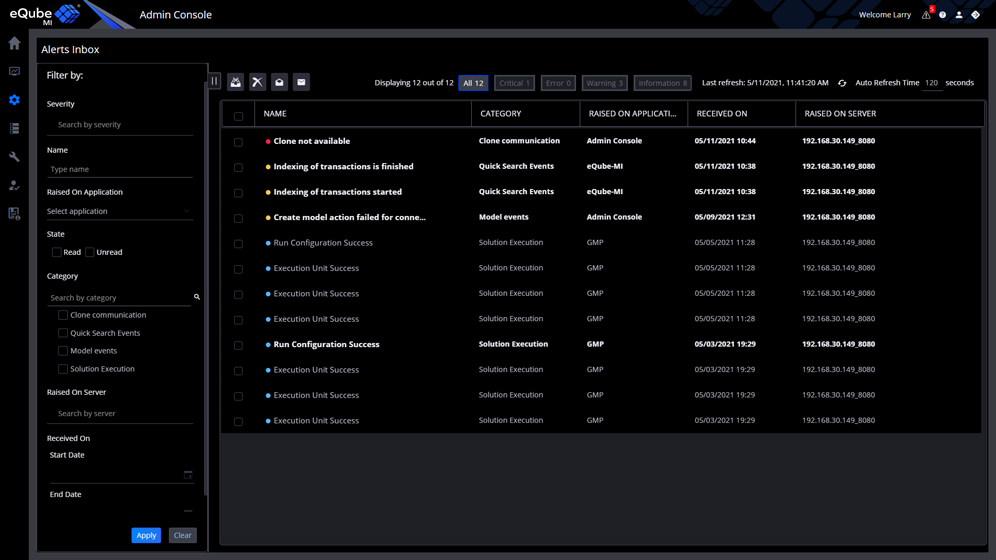 Easy
Alerts
Module, Severity & Application based
Notification in System or Email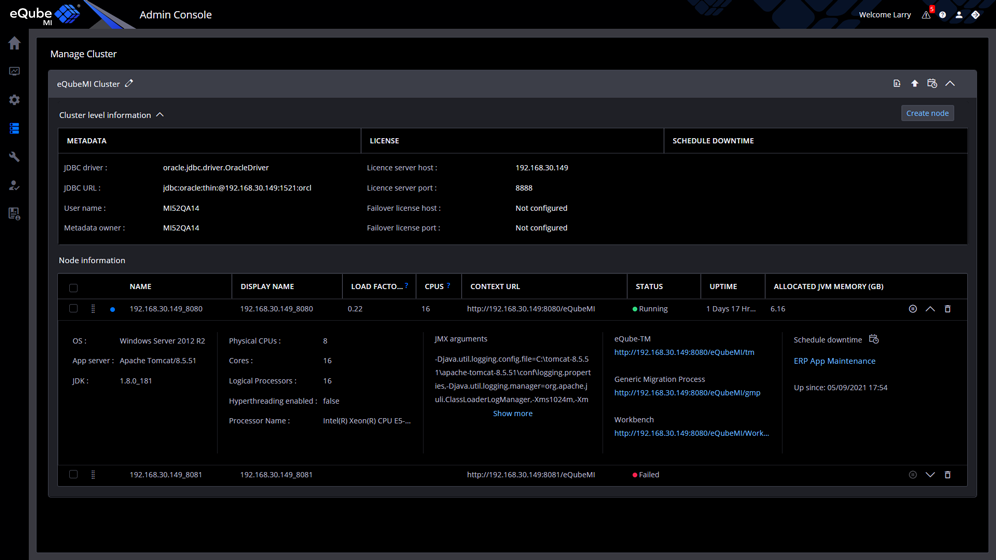 Comprehensive
Cluster Management
Cluster & Node Management
Upload files to each Node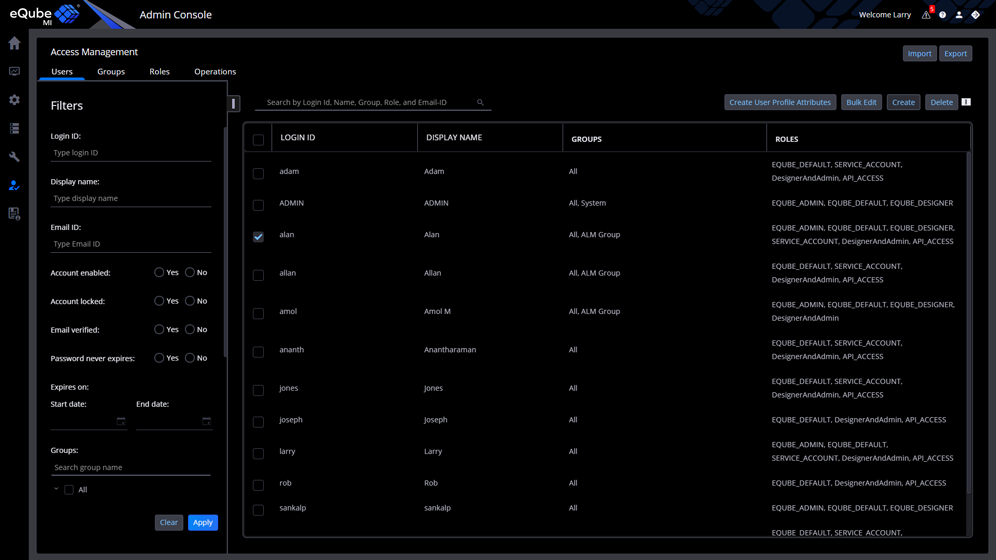 Role Based
Security with Ease
Import/ Export from LDAP or other Application
Add Profile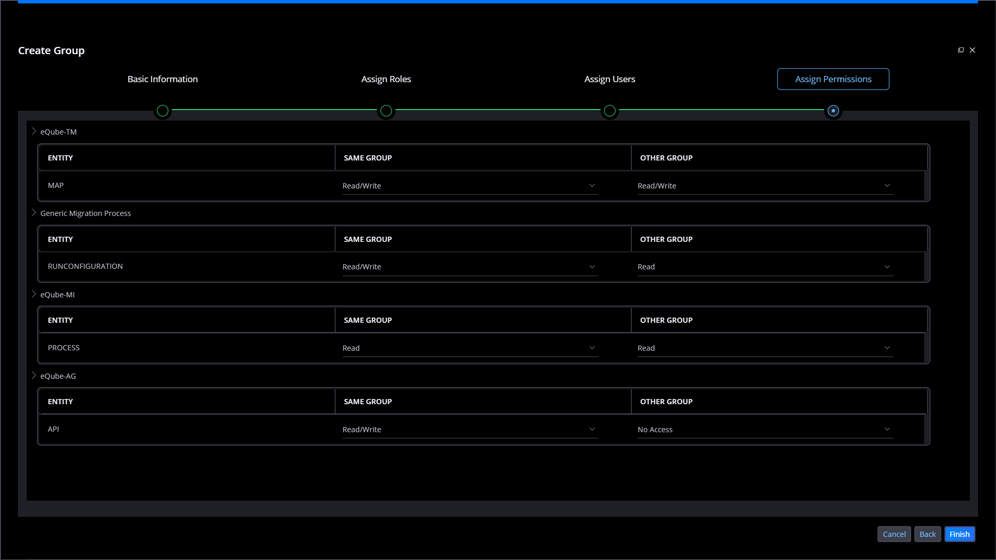 Multilayered
User Authorization
Access to Groups & Users
Change Ownership
eQube®-MI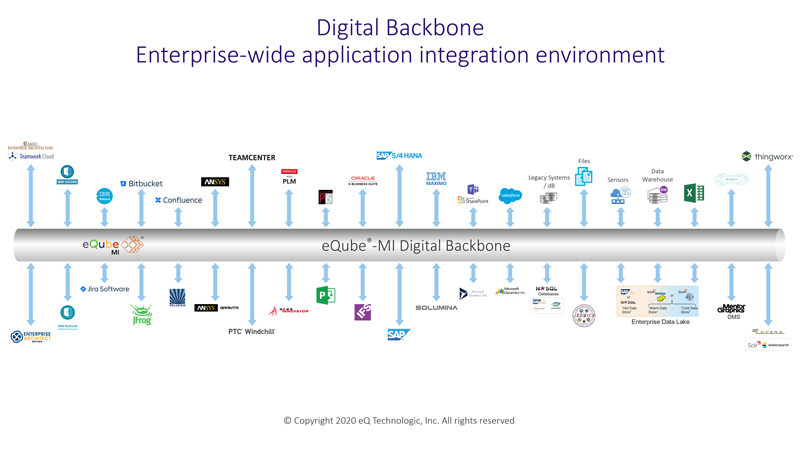 eQube®-MI is a powerful Low / No-code integration platform that establishes a Digital Backbone of integrated applications. It provides a comprehensive and efficient infrastructure for APIs, enterprise application integration, federation, orchestration, synchronization, and migration.

In addition, eQube®-MI based application integration infrastructure can be readily extended for secure, scalable, and robust information collaboration across networks, partners, suppliers, and customers that are geographically dispersed.

eQube®-MI represents 'Not only ESB (Enterprise Service Bus)' integration architecture. It can be used to build integration solutions conforming to either ESB type integration, loosely coupled application-to-application type integration, or API gateway type integration; hence 'Not only ESB'. It has significant advantages over ESBs or message brokers as the entire integration solution can be rapidly created, extended or updated without having to write code.
More...
A BPMN-compliant (Business Process Model and Notation) Process Designer integrated in eQube®-MI enables visual development of interfaces that include process workflows and processing pipelines containing the integration steps necessary for a given data integration pattern. With the Process Designer, all enterprise integration patterns are supported. Processes can be nested, support transaction boundaries, and include manual steps such as approvals and other forms of human intervention. With the Process Designer, interfaces can be readily developed by visually designing processing pipelines made up of activities, gateways, effects, and paths that capture the business logic of an interface and its process orchestration. The highly configurable eQube®-TM maps are directly consumed in the MI processing pipelines as 'activities', providing flexibility to the developers to rapidly implement APIs (REST, OData or Web services). This capability can be used to build OData or REST service layer on top of one or more Enterprise applications (legacy systems, COTS with old and new versions).
Less...
eQube®-DaaS Platform's ability to leverage existing investments: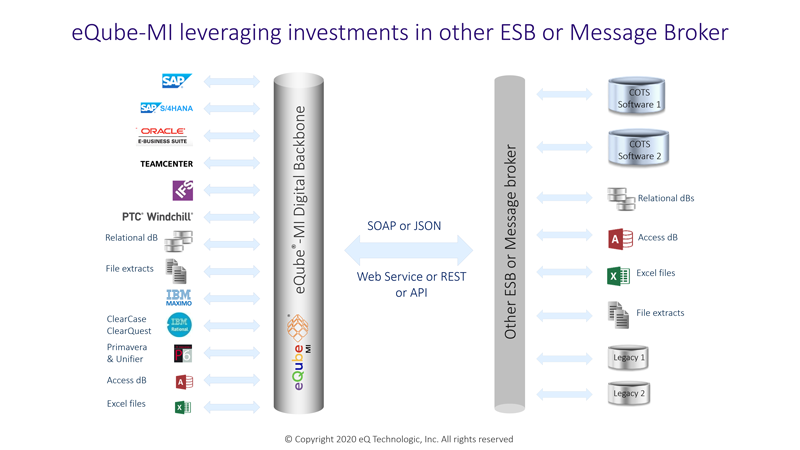 The eQube®-DaaS Platform offers a different approach to effectively address challenges of data and application integration, legacy system migration / retirement, data federation, 'For-Purpose' App development, and additionally, A/BI capabilities resulting in Actionable Insight.

In addition, because of its open and flexible architecture, it can readily leverage prior investments a customer may have made in other integration platforms such as ESBs, message brokers, etc. Several eQube®-MI implementations have leveraged existing ESBs or integration platforms where data is exchanged between eQube®-MI and other ESBs in the form of SOAP or JSON messages or Web-services / REST services or APIs.

Such co-existence architecture has provided customers with practical flexibility required to leverage prior investments and extend the capability using our eQube®-DaaS Platform.
Multi-PLM & ERP - 'For-Purpose' App
with data federation