eQube® delivers DaaS Solutions
Multiple solutions using eQube®-DaaS Platform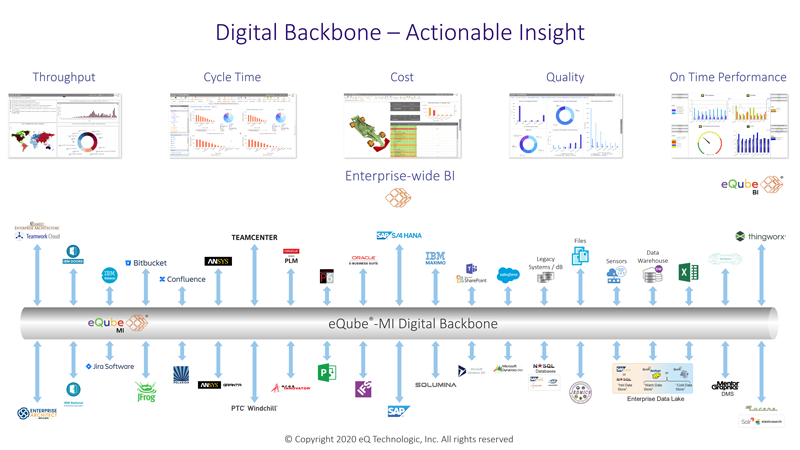 eQube®-DaaS Platform, establishes a Digital Backbone of integrated data, applications and devices (a.k.a. 'Data Fabric') that puts the power of analytics in the hands of end users leading to Actionable Insight.

eQube®-MI (Digital backbone) provides a comprehensive and efficient infrastructure for APIs, enterprise application integration, federation, orchestration, secure collaboration, synchronization, and migration. eQube®-BI, the modern analytics and business intelligence (A/BI) solution for Actionable Insight puts the power of analytics in the hands of end users. eQube®-DaaS Platform is flexible, robust, resilient, scalable, and secure with overall lower total cost of ownership.

It can be deployed in a cloud only or on-premise only or in a hybrid (cloud or multi-cloud with on-premise) manner. eQube®-DaaS deployment can be containerized using Docker and Kubernetes for auto-healing and elastic scaling in support varying business demand.
More...
Therefore, the eQube®-DaaS Platform can comprehensively address IDE requirements in delivering substantial productivity improvements and accelerate the realization of Digitalization or Digital Transformation. The below figure shows the eQube®-DaaS Platform – Digital Backbone with Actionable Insight.

Over the past 15 years, eQube®-DaaS Platform-based solutions have been widely deployed across many of our world-wide customers. Our customers are from multiple major industries: Aerospace & Defense, DoD, Auto & Machinery, High-Tech, Ship Building, Energy, Food, and Consumer Packaged Goods (CPG). For our customers, eQube® based solutions have and continue to responsibly retire legacy systems, integrate legacy applications and COTS solutions across networks, deliver low code end-user centric 'For-Purpose' Apps with data federation, and deliver analytics / business intelligence capabilities that provide reports, KPIs and dashboards leading to actionable insights. Some of our key customers include: Lockheed Martin Aero (including the prestigious F-35 program), Northrop Grumman (all sectors and programs including the B-2 and B-21 programs), US Navy (NAVSEA and NAVAIR), Adient, Micron Technologies, Conagra foods, MOOG, L-3 (multiple divisions), Rolls-Royce, Siemens AG, General Electric (multiple divisions), EDF (Nuclear power plants), General Dynamics (multiple divisions), Dyson, Visteon, Yanfeng, BAE Systems – MAI (Typhoon), BAE Systems – Marine (Successor submarine program), Boeing, SPIRIT AeroSystems, SS/L, ULA, MTU, and Honeywell-Aero among many others.
Less...