Responsibly retire legacy systems without business black-outs
Data Migration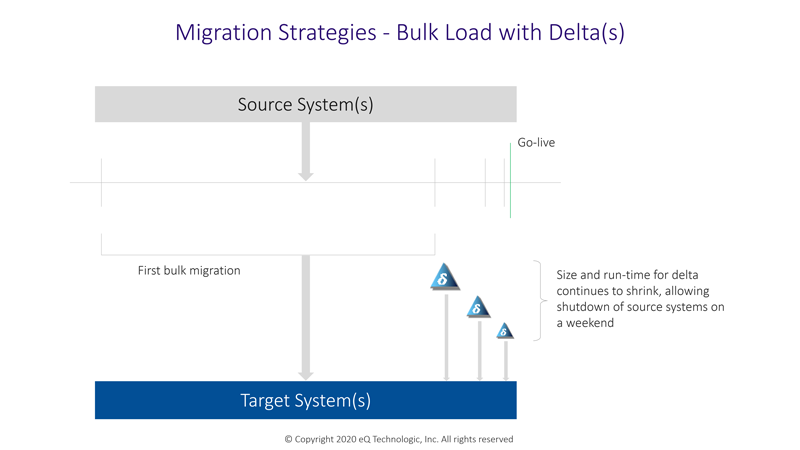 Application consolidation and retirement of legacy systems present significant opportunities and threats to any organization. With eQube®-MI, 'bulk load + delta' approach or 'bi-directional sync' approach can be used for orderly retirement of legacy systems without business disruptions or blackouts.

These approaches dramatically reduce the risks in consolidation of applications while providing a responsible path forward.
Application consolidation / legacy system migration
Using eQube®-MI, multiple proven options are possible for orderly migration of legacy systems without business disruptions or end user blackout periods: 'Bulk load + deltas' with various strategies and 'Bi-directional synchronization'.
More...
The above diagrams show the concepts.
'Bulk load + deltas': In this approach, initially, legacy data is bulk loaded in the target system. Data changed during the initial bulk load period is migrated subsequently under a 'delta' migration or multiple 'delta' migrations, until legacy and target system data is the same. The below diagram shows this concept.


After that point, multiple options are available:

Switch-off the legacy system and move the end users to the target system. Legacy system is kept for archival purposes, target system is the new system of record (SOR).
Keep the legacy and target systems in-sync – by each transaction or hourly or daily. Then make the target system the SOR by each program or project or domains (such as parts, BOMs, Changes, etc.). The below diagrams depict the concepts.

'Bi-directional synchronization': In this approach, migration is performed on-demand and by each transaction by end users. Upon migrating data to the target system, it is made the 'owner' or SOR for those objects and changes carried out on those objects are synchronized back to the legacy system. Once all the functionality of the legacy system is enabled in the target system, the need to synchronize the data from target to legacy is eliminated. The below diagram depicts the concept..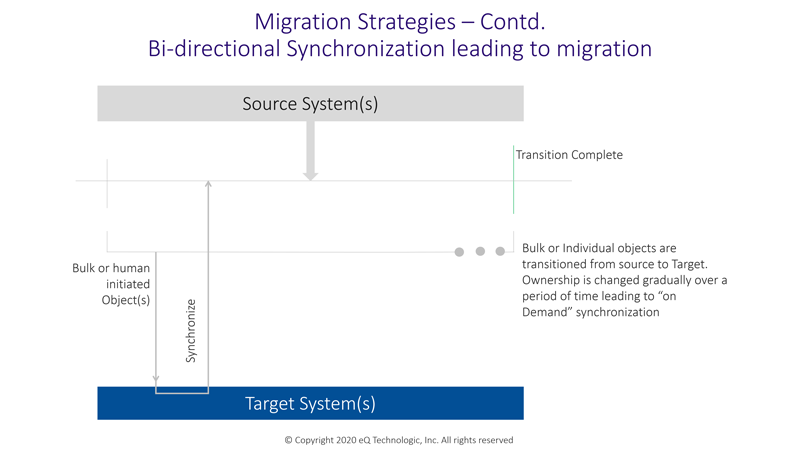 eQube
®
-MI with
eQube®-TM
have the flexibility to accommodate such complex bi-directional synchronization logic where both systems are masters for certain domains and slaves of other domains. With eQube
®
-MI there is substantial proven capability to model and incorporate logic to consistently and reliably manage such scenarios. eQ has successfully implemented bi-directional synchronization leading to orderly migration strategy with marquee customers in the PLM domain.
Less...
The eQ approach for Migration and Integration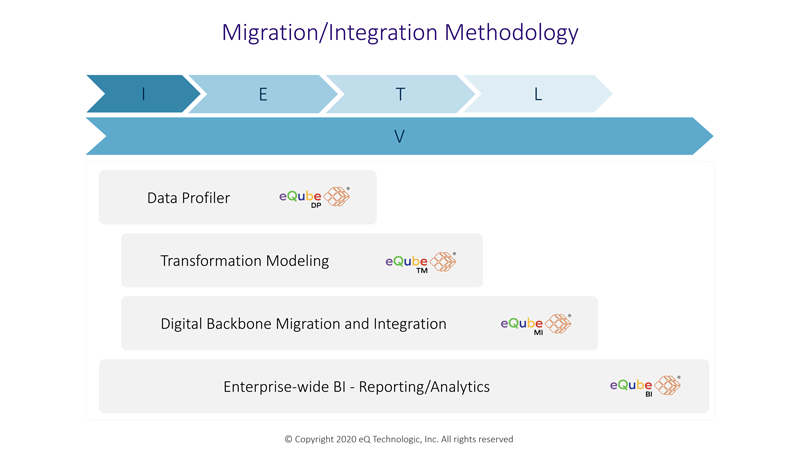 Using
eQube®-DP
, eQ delivers an alternative to manual and query-based analysis. Using a business rules engine with advanced semantic mapping and logic, eQube
®
-DP interrogates single or multiple complex data sources to deliver an initial data quality score, presenting the types of data issues in user friendly interactive reports, classifying the issues by various means such as duplication, incorrect formats, nulls, typing errors etc.
These and many more methods can be configured using rules to highlight the data quality challenges. Using a method known as snapshots, we can capture the data quality state at any point in time, lock the results and provide comparison of states over a period of time. eQ's approach to migration or integration solutions revolves around its 'IETLV' philosophy. IETLV stands for Identification, Extraction, Transformation, Load, and Validation. In any migration project, understanding the quality or facets of data in source systems is critical to help define the transformation rules and object model of the target system. eQube
®
-DP delivers this initial Data Discovery and Data quality assessment (or 'I' of the IETLV methodology).
BOM & CAD Migration
from old PLM to new PLM system
Parts, documents & datasets migration -
legacy systems to new PLM system
Data Migration to Teamcenter-
from Oracle & Excel