eQube® delivers DaaS Solutions
Multiple solutions using eQube®-DaaS Platform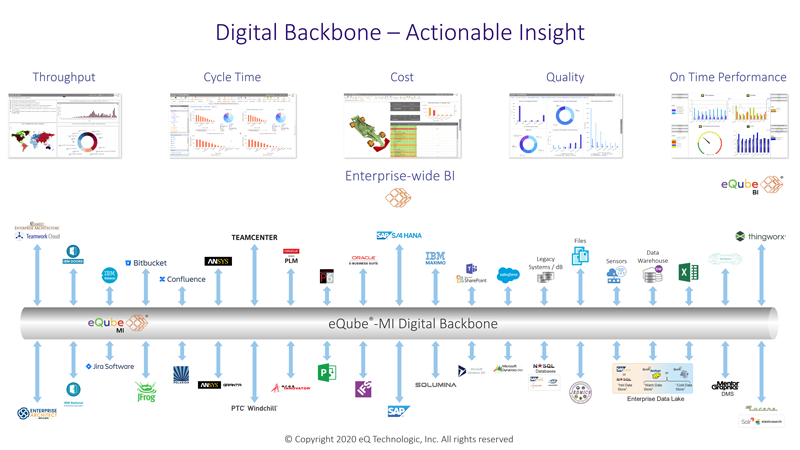 eQube®-DaaS Platform, establishes a Digital Backbone of integrated data, applications and devices forming a Data Fabric that puts the power of analytics in the hands of end users leading to Actionable Insight.

eQube®-MI (Digital Backbone) provides a comprehensive and efficient infrastructure for APIs, enterprise application integration, federation, orchestration, secure collaboration, synchronization, and migration. eQube®-BI, the modern analytics and business intelligence (A/BI) solution for Actionable Insight puts the power of analytics in the hands of end users. eQube®-DaaS Platform is flexible, robust, resilient, scalable, and secure with overall lower total cost of ownership.

It can be deployed in a cloud only or on-premise only or in a hybrid (cloud or multi-cloud with on-premise) manner. eQube®-DaaS deployment can be containerized using Docker and Kubernetes for auto-healing and elastic scaling to support varying business demands.
More...
Therefore, the eQube®-DaaS Platform can comprehensively address IDE requirements in delivering substantial productivity improvements and accelerate the realization of Digitalization or Digital Transformation. The diagram shows the platform ecosystem.

Since 2002, our platform-based solutions have been widely deployed across many of our world-wide customers. Our customers are from multiple major industries: Aerospace & Defense, DoD, Auto & Machinery, High-Tech, Ship Building, Energy, Food, and Consumer Packaged Goods (CPG). For our customers, eQube® based solutions have and continue to responsibly retire legacy systems, integrate legacy applications and COTS solutions across networks, deliver low code end-user centric 'For-Purpose' Apps with data federation, and deliver analytics / business intelligence capabilities that provide reports, KPIs and dashboards leading to actionable insights. Some of our key customers include: Lockheed Martin Aero (including the prestigious F-35 program), Northrop Grumman (all sectors and programs including the B-2 and B-21 programs), US Navy (NAVSEA and NAVAIR), Adient, Micron Technologies, Conagra foods, MOOG, L-3 (multiple divisions), Rolls-Royce, Siemens AG, General Electric (multiple divisions), EDF (Nuclear power plants), General Dynamics (multiple divisions), Dyson, Visteon, Yanfeng, BAE Systems – MAI (Typhoon), BAE Systems – Marine (Successor submarine program), Boeing, SPIRIT AeroSystems, SS/L, ULA, MTU, and Honeywell-Aero among many others.
Less...